Update 2020: general improvements and examples, especially examples in the cloud
A Virtual Appliance, also called a Template, is a pre configured and pre installed virtual machine, typically for a specific purpose and with a specific application distributed by a software manufacturer.
The goal is to enable it to be easy and fast to deploy a new application in a virtual environment, as long as you have a compatible hypervisor system.
With the maturing of server virtualization, many vendors and customers have opted for this virtual machine model, rather than to be creating a virtual machine from scratch, installing operating system and libraries, and only then installthe application.
Virtual Appliances are typically distributed with the Open Virtualization Format (OVF) extension, in a single file that can be downloaded directly from the software vendor.
This OVF file already contains an installed and preconfigured operating system, typically only needing to configure network address (IP Address), user, and password access.
Once downloaded the . OVF, just use a client for the hypervisor to deploy, which usually takes a few minutes (versus hours of what would be a common installation) and makes the task much simpler.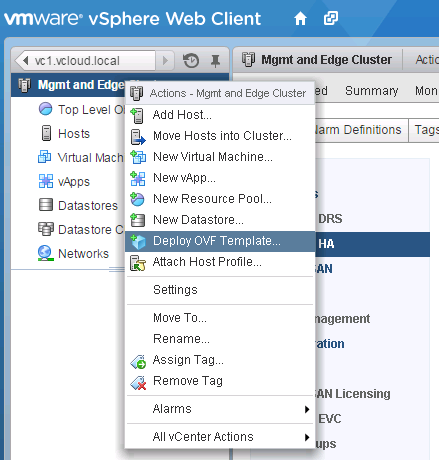 An example of a Virtual Appliance is the VMware vCenter Server Appliance, responsible for administering multiple hosts in a virtual environment simultaneously.
Previously it was necessary to install a Windows server, upgrade to the latest version, a SQL Server or Oracle server for the database, and only then install vCenter Server.
Once it becomes available as a Virtual Appliance, its installation usually takes less than 10 minutes, because the Virtual Appliance already comes with a configured operating system, compatible database, and all basic settings ready.
On some platforms such as Amazon AWS, the Virtual Appliance is distributed as virtual machine templates, within a Marketplace where you can jointly contract the necessary software licenses.
There are Virtual Appliance based on ready-made database, with firewall software, or even with entire ERP systems.